FAITHFUL BAPTIST CHURCH


​About Us
FAITHFUL BAPTIST CHURCH

19 N. Douglas St. faithfulbcomak@gmail.com
Omak, WA. 98841
509-733-0267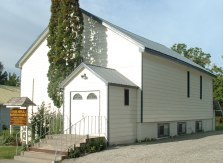 We are an Independent Baptist Church -
​a local assembly of saved, baptized believers that
are ​commanded to carry out the Great Commission. ​
​We believe the King James Version of the Bible is
​God's preserved Word for English speaking people.

History
​
In 2003 Faithful Baptist Church was started by Pastor David Warner with the
authority
of Fellowship Baptist Church in Arlington, WA. He was here 11 years after which, on August 31, 2014, the church called Evangelist Bob Long from Queretaro, Mexico.
Our Pastor

Our Ministry actually started when we made sure of our salvation because we were both saved as children years earlier. I remember our first work was preaching in a nursing home each week and later we became summer youth leaders in a church. It wasn't much later that we went to college and in 1972 I took my first pastorate. My last church in the states was in Dublin, Ga. where I was soon called to be an evangelist to Mexico. In between those times I started several churches and had much experience to lean on in this new calling. The deputation trail called and we went to Mexico after gaining our support to live there. We spent 12 1/2 years there before we were forced to come home due to my wife's health. We returned again to Mexico in 2005 and were privileged to start three more churches there and stayed another nine years. In the time between our life in Mexico we started and English and Spanish work in Washington State. In 2014 Faithful Baptist Church in Omak, Washington called us and we have enjoyed knowing we are in the center of God's will as we serve the Lord each day.​
Pastor Bob Long and
​his wife, Linda